it all revolves around her… but not so much here
I ate more than half of this fresh baked blueberry cobbler yesterday.
It was quite delicious at first, but that's not why I continued eating the thing. No, I continued eating it for various other reasons:
Because Taye didn't get out of bed till Lovie and I were out the door to go to the park at 11:30AM.
Because she was too tired to ride her bike home and we had to wait for Taye to come get us. And wait. And wait because "getting clothes on" takes the man half a fucking hour each and every time.
Because he ate a piece of my pizza I reheated instead of getting his own that rested, already reheated, near the toaster oven.
Because I wanted to nap and during that hour I could hear Lovie shouting: "Where are you, dad? Where'd you go?!"
Because I know how immersed she gets while play-dohing, which she was when I laid down, so I can only imagine how long he was in the bathroom in which he spends hours daily. HOURS.
Because he disappeared back into the fucking bathroom, just minutes after I got up, where he stayed until Lovie and I started banging on the goddamn door to get his attention after going on a search for him.
Because Lovie begged her now-snoring-on-the-couch dad to open the front door so she could go downstairs to play since she was bored (I wouldn't open the door for her).
Because I finally had fucking enough of her begging and his motherfucking snoring that I got up and started vacuuming the fucking play-doh bits while telling him to DO something with Lovie if he wasn't going to open the door for her.
Because he then told me I was crazy …that I was hearing what I wanted to hear …that he wasn't snoring …that he wasn't sleeping …that he was just sitting there sprawled out on the couch (not sleeping) …that I was pissed because of something- who knows what- and he was the victim to my insanity.
Because I wanted to take him and shake him so fucking hard that maybe his head would snap off and then he'd be able to finally SEE that he DOES fall asleep on the fucking couch any and every goddamn time we're all hanging out …that he DOES go to the bathroom multiple times a day and spends a RIDICULOUS amount of time in there every fucking time …that his kid is bored because he does NOTHING (active) with her …that he's fat because he doesn't fucking MOVE.
Because if I didn't eat half of the fresh baked blueberry cobbler yesterday, I'm certain I would've packed a bag, grabbed my child's hand, and left.
And why? Because he snores. Because he takes forever in the bathroom.
WHAT'S THE FREQUENCY, KENNETH?
Now, had I not just finished bleeding last week, I would've chalked up my insanity to PMS, but the fact is that I ate more than half a fucking blueberry cobbler yesterday because of all that shit up there.
Not because I was hungry.
Not because I wanted the funky shits.
Not because I just couldn't stop eating it.
But because I gave up, like I often do, and turned to food.
I know this, and I've known this for a long time, yet I can't seem to fix it.
But I sure as hell can grab another spoonful of that there deliciousness. Like it's my job.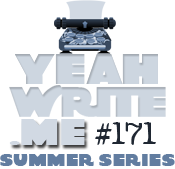 At least my girls think so.
You know. My girls. The two big melons attached to my body above my round belly. They got manhandled, smashed, and x-rayed between a couple pieces of glass first thing this morning. I opted to wait around for the results.
"See you in a year!"
Yippee, another year my kid gets to use them as a seat or something to help hoist herself up.
Have you gotten your mammogram (if you're over 40) and/or done a self breast exam lately?
Tomorrow is a big day for my little girl.
As much as I want this change to happen, as much as I know this will be an amazingly good change…I also know that I'm going to cry. A lot.
I sat here today for over an hour trying to decide what the cake I ordered for tomorrow should say. The cake that will feed all the kids and all the staff (and then some) at Lovie's daycare.
Tomorrow is her last day there. The cake is to help celebrate this milestone and help us say goodbye.
It would've been her last day there long ago, but there wasn't an opening in her new school until now (summer program starts Monday). While Lovie is doted on like crazy at daycare/preschool (they treat her like a pop star), it's really much more of a daycare environment than a preschool one. I'm not saying she should be schooled the entire day, but she's so smart and I don't want her to get bored (and Montessori school, which she'll be attending, seems to be an amazingly perfect fit for Lovie and her independence and love of learning).
So tomorrow's the day we finally say goodbye to daycare.
We've had some rough moments these past four-plus years—from getting ready in the morning to leaving her friends at the end of the day—but for the most part it's all been pretty damn great. Especially since I've been able to spend nearly two hours more a day with her because the daycare was close to my work.
But tomorrow will be the last time we'll spend so much time together during the work week. Tomorrow will be the last time I get to peek at her through the rear-view mirror as I drive the 20 miles to daycare to drop her off, or the 20 miles from daycare driving home. Tomorrow will be the last time we can jam out to Pompeii or Happy or yes, even the Wiggles. Tomorrow will be the last time she can ask me to stop for an Icee or chocolate ice cream because after tomorrow, we'll be literally two minutes from home.
So what do you have written on a cake for such an occasion?
I almost went with a silly "got cake?" message. Then I thought maybe "eat me" would be fun, too. But this isn't fun. This saying goodbye to the people who helped mold my baby into a little person, who helped her and encouraged her to sit up and crawl and walk and run and eat with a fork and use the bathroom, isn't a ton of fun.
So then I thought maybe a simple "Thanks" on the cake would suffice. But really? "Thanks" on a big-ass sheet cake with a smiling sun and flowers?
Eventually I opted to leave it blank. Let the smiling sun and flowers speak for itself.
Tomorrow is a big day for my little girl… and me.
************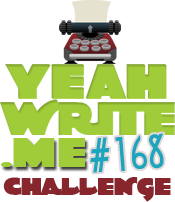 I wrote this earlier today while I was trying not to fall asleep at work. I knew I was falling asleep but I was hoping maybe I wouldn't if I started writing… and, also, I thought it might be interesting to see what I would do if I did fall asleep. Pretty interesting results–if you can read through all the horrid typos. Maybe tomorrow, when I have more time, I'll translate this. Or maybe not. :)
It's hard not falling asleep at work some times. I never used to be like this. Notreally. But lately I've just been so tired. Actually I think it started when I got pregnant and had to nap nearly dail. At tleast I had a reason then. Now I'm not pregnant, just fat. So what's my excuse? I mean, how bloody rude is it that I fall asleep. WHILE I'M SUPSE D TO BE WORKING. Almost put married because I'm pretty much writing this with my eyes closed. Because I'm SO tired. It's not normal to be this tired I don't think. Is it? Maybe it's the drugs. The Prozac, th elebaalol. I dnno.

ZPoor gilr afcross from me has to  answer all the dmb calls now. Better here than me that's for dang sure. I hate answering th ephon, I hate cleaning up after.

I hate wearing stockings or socks

I just like my feet to be nakeed whenever time allows.

Which isn't often.

I'm literally flaaing asleep right now. Wow. I tired typing in the hopes that it would wake me up, but it doesn't seem to marry. I keep typing . I keep trying to wak but my eyes are SO heavy. Like garage doors that have afallen off its hinges. BAM!! They (my eyelids) just scrash into the ground.

Soon I'm gonna snoring. I already dis so once – that I caught- and then I played it off, of course, like it was just a blech or something.

They have to know. THEY HAVE to know I sleep wile I'm re
It used to be that I would sit in my car overlooking the duck pond and cry. Really, that's what I would do. I'd watch the big ducks and the little ones. I'd watch them fish for food or peck at the ground. I'd watch them waddle around, sometimes fight. And I'd cry. I'd look at the clouds in the sky. I'd watch the trees sway in the breeze against the blue sky. I'd look at the big apartment building opposite me and wonder if anyone was looking at me just then. I'd wonder if anyone else was looking out on to the pond and crying.
It used to be that I was pretty miserable. I was very unhappy. I felt like I wasn't living life. I felt like I was just waiting for everything to happen to me. And instead of doing something – really doing something – I'd park myself somewhere and cry. And sometimes I'd write. And sometimes most of the time, that would make me cry even more.
Everyone around me was living life; I felt stuck for some reason. Trapped. I knew I wanted more, but I was afraid.
And that made me cry, too.
I guess I was a big fat crier.
Today I went back to that duck pond and parked my car. I watched the ducks waddle and search for food. I even noticed one with a bad limp, the poor thing. I looked at the grey skies, the green trees, the murky water. I looked at the huge apartment complex and wished I could just erase it from my view.
I didn't cry today. I think I almost did at one point when I thought back on how often I used to go to this pond and do just that. Cry.
I was pretty sad then.
Am I happy now?
Kinda, yeah. For the most part; but more than that, I think I'm just un-sad. Know what I mean? Like, of course life could certainly be more interesting but it's okay.
I'm okay.
Sometimes, it's okay to be okay.
Christina:
love memoir reading and writing!!
Originally posted on Live to Write - Write to Live:
Memoir is among my favorite work to read and write.

No matter how ordinary, there is something quite wonderful about a life well lived, well loved and well told. That's a great thing about memoir; interesting stories are not the exclusive domain of the powerful, rich or famous.
Writing memoir makes you vulnerable. Like all writers, you put yourself out there as an artist, for people read and critique. When you write memoir, you also put your life out there. You invite people to read about the choices you made, your mistakes and your successes. Telling your tale opens the door to admiration, condemnation and everything that lies between.
But what about the people you met along the way? While you choose to tell your story, your family, friends, colleagues and enemies didn't. They didn't ask you to bare their souls or share their wins and warts. So … should…
View original 582 more words